Oxford Biochar is sponsoring a giant experiment to test the effectiveness of Biochar in standard garden plots all across Britain.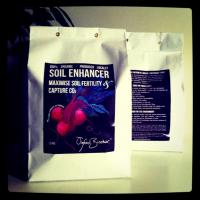 "The web site does a nice job of explaining what biochar is, and showing the benefits of adding it to your soil. Then it asks home gardeners to set up 2 plots, one a test, and one a control. Add the biochar, and record data about what types of things they added to both plots, the pest control needed and the yields from that plot are. It looks like it will do a nice job of seeing whether regular gardeners are likely to see results from biochar in the first year."

Erin Rasmussen
It would be great if we could get this replicated in SEA to start building a knowledge base on tropical soils. One problem will be sourcing biochar in the region. There is still almost no commercial retail activity in SEA and importing retail products from overseas is not practical or beyond the means of many in the region.
I hope to soon be able to confirm the importation of a container load of BlackEarth biochar into Singapore to support local & regional research activities. Maybe this product can be distributed to a team of volunteer researchers / gardeners.